"B Together" for Independence Day
"B Together" for Independence Day
Event Info
Date: Saturday, July 4th, 2020
July 4 | 4 to 6 p.m.
Hilltop Dining Room & Pool | Resort Guests Only
Carneros Resort and Spa is proud to partner with Bouchaine Vineyards and Festival Napa Valley on the "B Together" Independence Day music celebration.
Join us at our stunning Hilltop Pool overlooking the rolling hills and vineyards of Napa Valley, while listening to the talented harpist, Kristin Lloyd. A professional harpist with a Master of Music degree in Harp Performance, Kristin has an extensive repertoire of classical music and is also skilled at adapting modern pop songs.
This year would have marked the 15th Anniversary of Festival Napa Valley, a non-profit organization that presents a 10-day celebration of the performing arts, educational programs, food, and wine. Though the festival cannot go on as planned, Festival Napa Valley and founding sponsor Bouchaine Vineyards have partnered with over 30 venues to create a Fourth of July celebration of music and cuisine.
We look forward to welcoming you for a relaxing afternoon of musical ambiance at Carneros Resort and Spa.
Please note: this event is offered for guests of the resort only.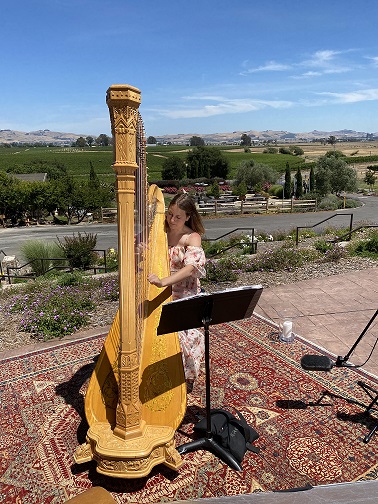 "B Together" for Independence Day
Event Info
Date: Saturday, Jul 2020